Fast Talk
Monday's at 7 P.M. Eastern
The Performance Racing Network is back with it's 24th exciting year of Fast Talk.
Fast Talk on the Performance Racing Network airs at 7 p.m. EST on Monday nights and is heard on more than 170 radio stations, goprn.com and NASCAR.com. Fans can join the show by calling 1-800-771-8255 or emailing questions and comments to

. Fast Talk can also be heard on SIRIUS-XM Channel 90 on Wednesday at 11PM EST. Fast Talk is streamed live each Monday on goprn.com.
A star-studded lineup of NASCAR Sprint Cup drivers and personalities co-host the show along with PRN's own Doug Rice on a rotating weekly basis including:
Kyle Petty An auto racing icon, a champion of philanthropy and easily one of the most recognizable personalities in racing. His name and mega-watt smile will always connect him with NASCAR's most famous family and his humor and insight always make for an interesting show. Kyle also lends his talents to TNT as an analyst for their live NASCAR coverage and hosts a variety of programs for the Speed Channel.

Kenny Wallace Veteran of both the Sprint Cup and Nationwide Series and a well-known television commentator. He is the co-host of two programs for SPEED channel each week; "NASCAR RaceDay", which airs before the Sprint Cup race each week, and "NASCAR Victory Lane", which extends post-race coverage. His upbeat personality and insightful opinions make him one of the most loved racing commentators in the industry.

Hermie Sadler Veteran NASCAR driver who began racing at the age of ten. His years of racing experience have helped him carve a new career in broadcasting. In addition to co-hosting duties on Fat Talk, Hermie is a NASCAR analyst on SPEED.

Jeff Hammond One of NASCAR's most successful crew chiefs, especially when teamed with Darrell Waltrip is now an on-air commentator for both FOX and Speed. His resume also includes author of the popular book "Real Men Work in the Pits". Besides his love of racing, Jeff also has a passion for horses, rodeos, team roping, and hunting.

Phil Parsons Winning driver in both the Nationwide and Sprint Cup Series and now part of the broadcast team covering the NASCAR Camping World Truck Series on SPEED.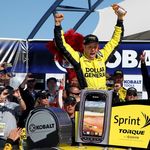 Wednesday, March 20, 2013
A couple of weeks ago I tweeted out a question, "Is Matt Kenseth a NASCAR Hall of Fame driver?" I can tell you the vast majority of the responses indicated that Matt would get in on the first ballot.
If you just break down the numbers it would appear he is a layup. Matt has 25 career wins. That means he's tied for 23rd on the all-time win list. Matt sports a Sprint Cup title and two Daytona 500 trophies. Oh yeah, and just for good measure he's got 26 Nationwide Series wins, that's 7th on the all-time list.
Continue...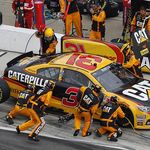 The NASCAR landscape is populated with several power teams including Hendrick Motorsports and Stewart Hass Racing, which in many ways is related to Hendrick Motorsports. Joe Gibbs Racing is also considered a super team with Kyle Busch, Denny Hamlin and now Matt Kenseth in their lineup. Michael Waltrip Racing made great strides last year with both Clint Bowyer and Martin Truex Jr. making the Chase and Bowyer finishing second in the points battle.
Continue...